Roca presents a broad range of Touchless solutions among other novelties for today's bathroom space
22/03/2021
Focusing on ensuring health and safety in such an important area as the bathroom, Roca presents a new lineup of Touchless solutions that prevent hand contact and minimize the risk of virus and bacteria transmission in shared use spaces.
Touch-free faucets and accessories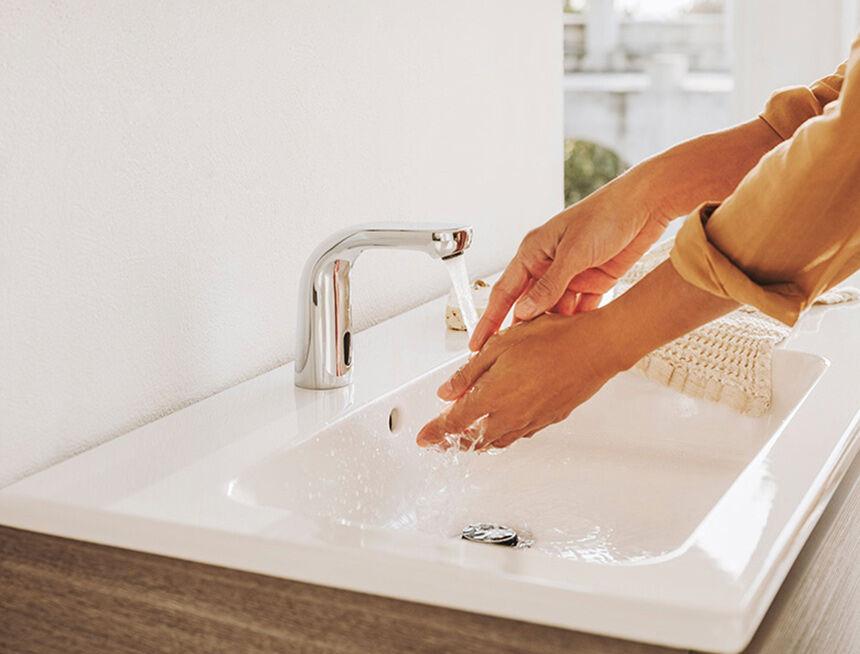 L20-E Touchless faucet
With a comprehensive range of models, Roca electronic faucets adapt to any basin configuration and can operate either with batteries or connected to the mains, including also vandal-resistant features. Available with the sensor located in the body base, like L20-E or L70-E, or in the tip of the spout, like Atlas-E, for the most accurate activation, especially convenient in over countertop basins.
Roca also takes a step further in accessories to achieve a 100% Touchless bathroom space presenting a brand-new range of dispensers and hand dryers.
Touchless flushing for toilets and urinals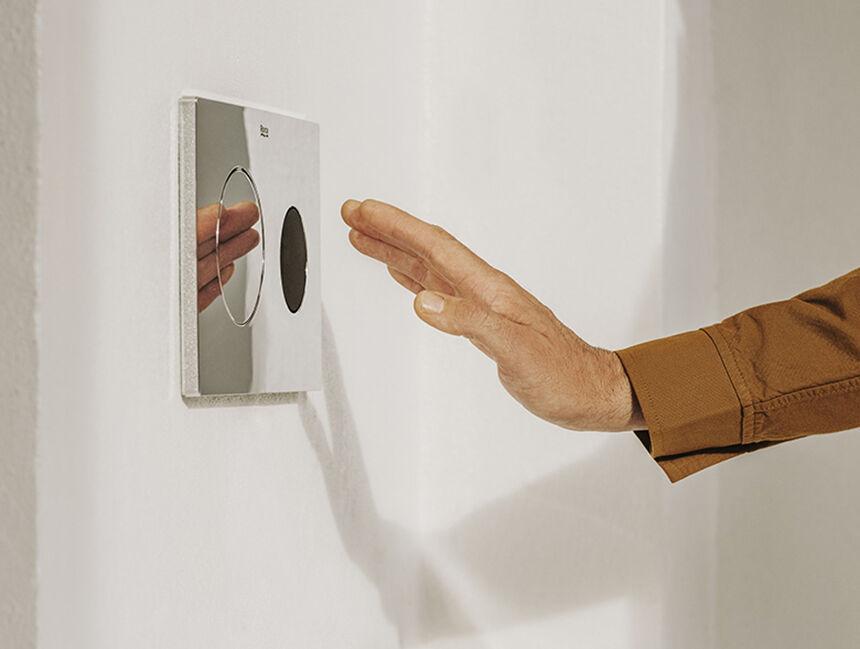 PL10-E Touchless push plate for built-in cisterns
With the aim of bringing safety to all spaces, Roca has developed the innovative EM1 mechanism, which turns any close coupled Roca toilet into a Touchless flushing device. For wall-hung installations, the PL10-E enlarges Roca's range of sensor activated operating plates including a vandal-resistant version, PL10-E Pro, which can also be configured to automatically flush every 24 hours for improved hygiene.
As for urinals, Roca launches Proton, a modern and minimalistic Rimless solution with vandal-resistant trap, available with an integrated sensor for configurable Touchless flushing.
Shapes in full color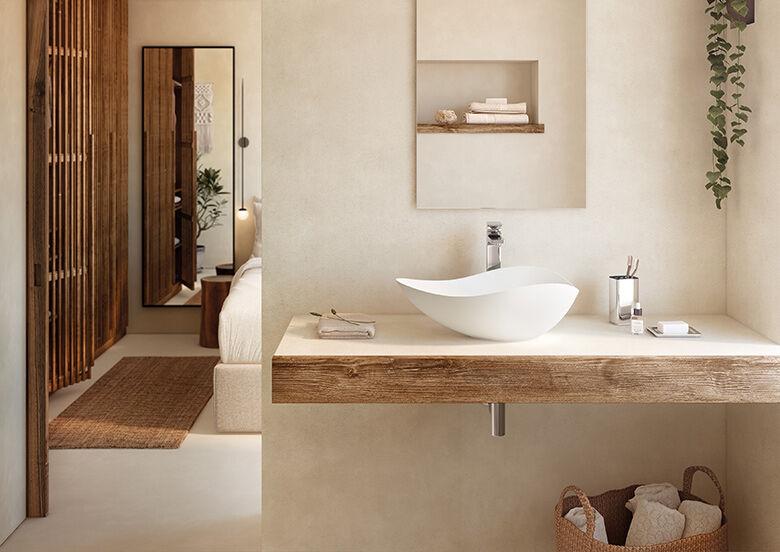 Ohtake basin made in Fineceramic®
The presence of color in iconic ceramic collections like Inspira or Beyond is now joined by innovation in shapes and designs. Thus, the original and awarded basins collection designed by the renowned Brazilian architect Ruy Ohtake for Roca, unfolds the irregular shapes of nature in Off White, Beige, Pearl, Coffee and Onyx, matt colors now also available in all the Stonex® and Senceramic® shower trays range for a perfect match.
Moreover, color is no longer reserved for ceramics and resins, expanding to faucets without neglecting their durability and resistance. Thanks to the exclusive Everlux coating, Roca shapes original bathroom faucets and shower columns in everlasting metallic finishes such as Titanium Black or Rose Gold.
Innovative materials for shower trays, baths and basins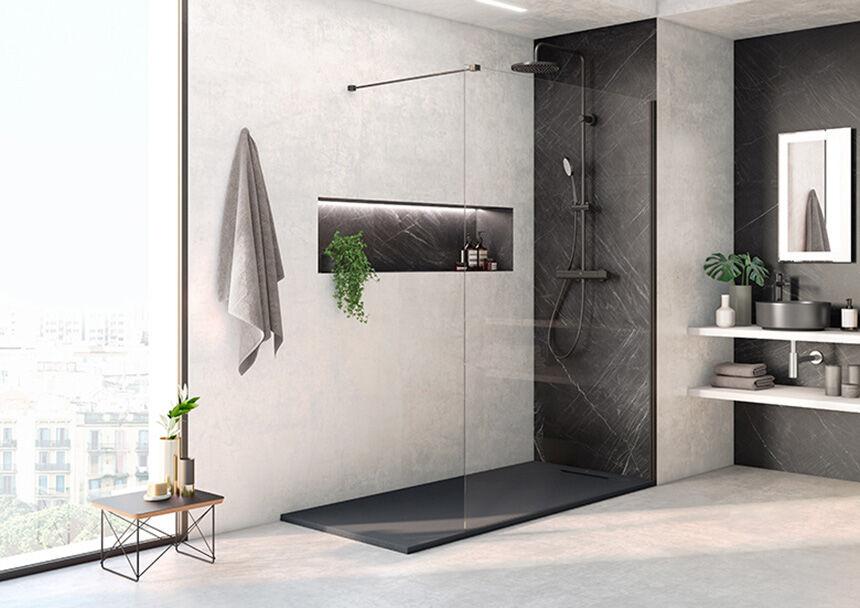 Pyros shower tray made in Stonex® available in 7 colours
As for materials, Roca continues innovating to shape more attractive, more resistant and safer products. This is the case of Pyros, the new shower tray with integrated waste and anti-slip textured finish made of Stonex® and available in seven colors.
Stonex® is also casting the new freestanding baths Ariane and Kauai, with organic and ergonomic shapes, available in gloss white and with hidden built-in waste and siphon for an easy installation.
On the other hand, the Modo Dash basin makes the most of the extraordinary features of Surfex® and allows the creation of tailor-made configurations up to 2800 mm in a single piece.
Sustainability in bathroom and kitchen faucets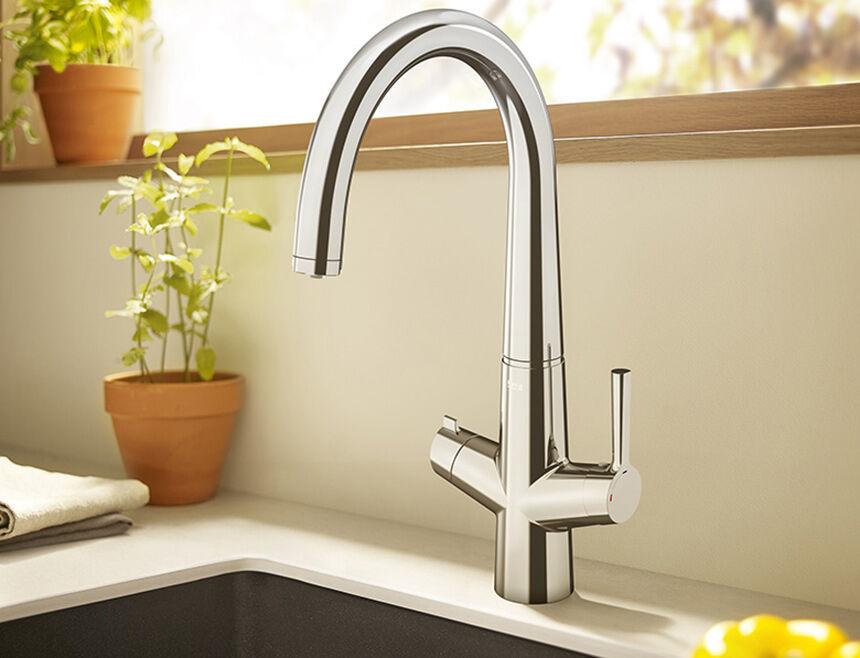 Syra-F faucets provides filtered drinking water
Roca's commitment to sustainable development is highlighted within the new Cala faucets collection, a design with rounded outlines, including water and energy saving features such as Cold Start technology.
In the kitchen, sustainability also comes first with the new Syra-E and Syra-F faucets, two concepts that improve water consumption at home. On one hand, Syra-E puts Touchless technology at the service of efficiency to prevent running water when it's not necessary. On the other hand, Syra-F also plays its part by providing purified filtered drinking water.