Education, a platform for life
09/03/2022
Yvonne Farrell and Shelley McNamara of Grafton Architects share their thoughts on spaces for learning
Rocagallery.com ends its topic of the month, dedicated to education, with an interview with Yvonne Farrell and Shelley McNamara, the founders of Grafton Architects. During their conversation with Diane Gray they talked about the projects they have carried out for educational spaces, including UTEC university campus in Lima, Luigi Bocconi University in Milan and the Town House project for Kingston University in London, which was selected as a finalist in the 2022 European Union Prize for Contemporary Architecture – Mies van der Rohe Award.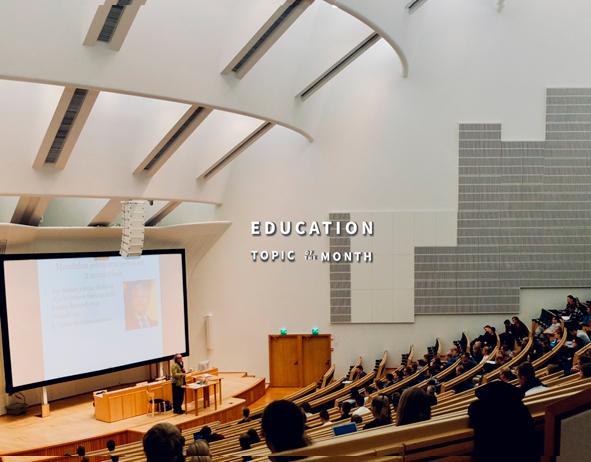 The online platform for debate and research on architecture, design and sustainability has dedicated these last two months to the topic of "Education"; a reflection on the needs and challenges faced by educational institutions. Encompassing different approaches and fields of study, our guest writers have explained their vision on how to meet the current and future needs of education and on how to rethink the spaces which serve the generations who will build the world of tomorrow.
With wide-ranging and extensive experience in the design of educational facilities, Yvonne Farrell and Shelley McNamara of Grafton Architects have offered us their vision of what it means to design buildings as complex and programmatically rich as universities. The "Town House" project for Kingston University in London, recently selected as a finalist for the 2022 Mies van der Rohe Award, is based around the overlapping uses that result from mixing a library with a dance studio. The juxtaposition of contemplative and active activities offers a creative approach to education as a process of engagement and discovery.
Today's debate around schools and educational programmes has led to a reassessment of the role that architecture should play in this field. In view of the challenges ahead, architects and designers must, today more than ever, explore new and innovative solutions in the design of current and future educational buildings.
To this end, the authors of the topic of the month have offered a global vision of what the schools and other educational spaces of tomorrow should be, of new student demands and the construction of a teaching body that focuses on digital migration, without neglecting social relations.
Collaborating authors include: Lance Jay Brown, president of the Consortium for Sustainable Urbanization, who in his article Architectural Education emphasizes the importance of factors such as climate change and sustainability in the architecture schools of the future; Mónica Gutiérrez and Rubén Lorenzo, members of the Basurama art and architecture collective, who write about the importance of outdoor spaces during childhood Wild Playgrounds Where we Used to Play; Juulia Kauste, a sociologist specializing in architecture and art, who offers a detailed look at the new curriculum in Finland and how it affects school buildings in her article Spaces for Education Serving the Entire Community; Binke Lendhart, architect and co-founder of the Crossboundaries studio, discussing the future configuration of classrooms in relation to her experience designing schools in China in the publication More than an Architect; Mariana Ordóñez and Jesica Amescua, architects and co-founders of the Communal studio, who present the case study of the Productive Rural School in Tepetzintan, Mexico, and the active role that communities should have in school infrastructures in their article Productive Rural School. We have also had the opportunity to discuss the theme of play with Kimberlie Birks, a writer specializing in art and design, who explores the importance of toy design in the education of children; Mario Corea, architect and founder of Mario Corea Arq., talks about typological design as a way of ensuring more modern and efficient schools; Jorge Raedó, architect and director of the Osa Menor initiative, deals with the close relationship between childhood, education and architecture; and finally, Neil Pinder, Head of Product Design and Architecture at Graveney School, reflects on different methodologies to engage the youth of today with the architecture of tomorrow.
With this new topic of the month, Rocagallery.com once again takes a detailed look at highly topical issues from the point of view of architecture, design, innovation and sustainability, through the eyes of professionals from a wide variety of disciplines. All articles are available in both English and Spanish at http://www.rocagallery.com/