Innovation and technology in Roca's new launches
22/03/2021
Within its continuous aim of improving bathroom solutions through innovation, Roca presents two new products that put design and technology at the service of hygiene and wellbeing, along with one of the most innovative materials for the bathroom space.
In-Wash® In-Tank®, the smart toilet with integrated cistern, the Smart Shower, with customized settings and programming through the mobile phone, and Senceramic®, the revolution of ceramics for the shower space, evidence Roca's commitment to the development of customizable and user-friendly solutions that will improve the bathroom experience.
In-Wash® In-Tank®, a step forward for the smart toilet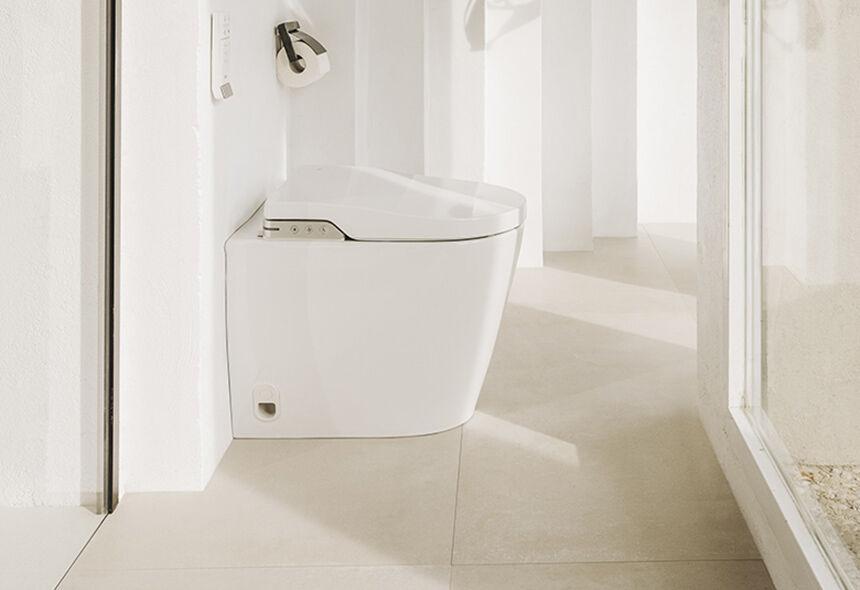 In-Wash® In-Tank® at Espai Corberó in Barcelona
In-Wash® In-Tank® combines all functionalities of Roca's smart WCs into one compact piece that integrates the cistern into the bowl. As there is no need for external or built-in tank, both the wall-hung and the floor standing versions, can save up to 20 cm versus conventional toilets.
The Rimless Vortex design of In-Wash® In-Tank® makes the traditional toilet rim disappear and has an optimized internal shape that, together with the Soft Air propelling technology, generates a powerful 360 swirl-shaped flush that distributes water evenly and controlled throughout the bowl, resulting in a thorough, effective and silent cleaning.
In addition to all functions aimed at total hygiene, In-Wash® In-Tank® also introduces the new and exclusive Supraglaze enamel: a crystallized hydrophilic finish providing an antistick inner surface that facilitates water's cleansing effect. It is applied on top of the traditional enamel, ensuring an even smoother, porosity-free surface.
Smart Shower, the ultimate connected showering system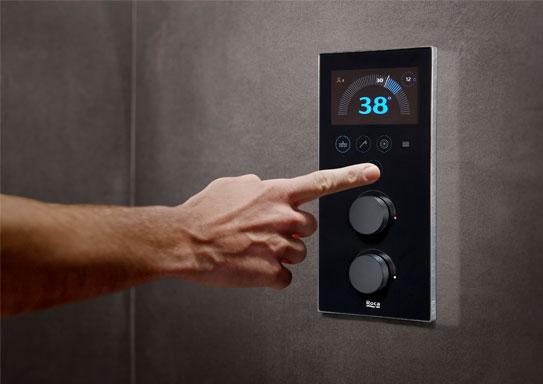 Detail of the Smart Shower control panel in function
Capacitive technology and ergonomic design are some of the keys of Roca's Smart Shower that also allows users to generate and customize their profiles and program it using a mobile phone.
With its 12 mm-thick minimal panel and its user-friendly touchscreen, the Smart Shower's control panel allows the selection of the water temperature, flow and outlets through capacitive sensors and ergonomic knobs for an optimal operation throughout the whole showering process.
It also features an app to program its automatic activation to preset the water temperature or fill the bath in advance. With a Pause mode –that cuts off the water flow while the user lathers up and reactivates it in the same temperature and flow conditions– and the option of monitoring consumption statistics, this solution promotes water saving and also features a Children mode to prevent its involuntary activation by the little ones.
Roca's Smart Shower also provides a self-cleaning function that removes limescale and impurities with high-pressure water and, for deeper hygiene, it has a program to eliminate bacteria, such as legionella, that could build up in the piping after long periods of disuse.
Senceramic®, ceramic as always, properties like never before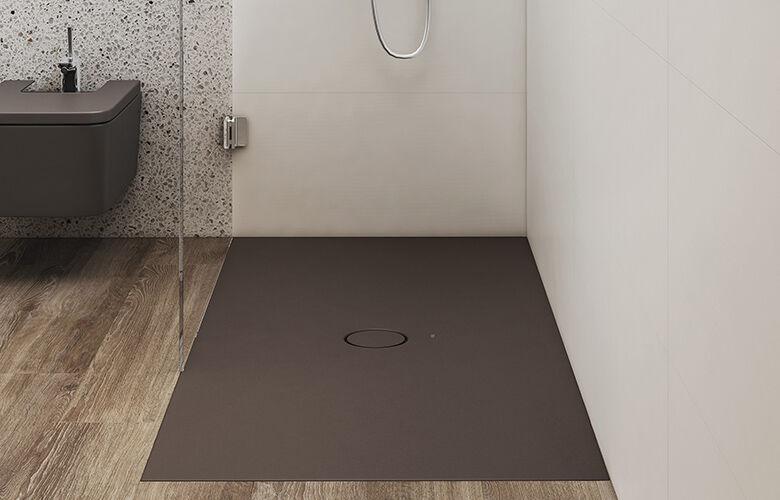 Cratos shower tray, made in Senceramic®, in its Coffee finish (file: senceramic.jpeg)
As for the quintessential bathroom material, ceramics, Roca continues innovating to shape products that are more attractive, more resistant and safer. Introducing Senceramic®, the newest ultrafine ceramic material for shower trays, Roca pushes further its limits. Easy to clean and with a textured surface that offers C level slip-resistant surface together with a very natural feeling to the touch, the Senceramic® shower trays are extremely resistant to abrasive products, thermal shock or UV light.
The Cratoscollection of shower trays made of Senceramic®, present a stylish design with a minimum height of 35 mm allowing flushed installation to facilitate their perfect integration into the shower area. Available in five finishes, Cratos shower trays reach up to 1800 mm length and can also be cut to size to fit any shower space.